| | |
| --- | --- |
| | |
| Honda Civic | Toyota Corolla |
Popular manufacturers have been neck-and-neck with many of their vehicles for a long time. Both Honda and Toyota have produced reliable and exciting vehicles for decades, but which has the vehicle you want today? We want to show you how the top choices of each brand - the 2022 Honda Civic and 2022 Toyota Corolla - compete. Looking at the popular traits of each will make it easier for you to decide which you want in your driveway.
The 2022 Honda Civic hits the market with more customization and advanced features than ever before. If you are looking for a vehicle that can handle your commute, weekend adventures, or weekly errands, there really isn't a much better option when looking at cars. The dependability is well-known, and the options are nearly endless.
Looking at the 2022 Toyota Corolla might initially paint a similar picture. There are many options and capabilities shared between the 2022 Corolla and 2022 Honda Civic, but taking a closer look will show a lot on the 2022 Honda Civic that the 2022 Corolla doesn't offer. Our comparison takes a deeper dive into these differences so that you can see which model comes with more that you will love.
From power to technology, our comparison looks at the traits you care about to ensure you feel confident with the model you add to your driveway. Our team has researched each model so that you have a strong starting point when deciding between them. Instead of doing hours of research, we encourage you to read our comparison to see what each vehicle can do.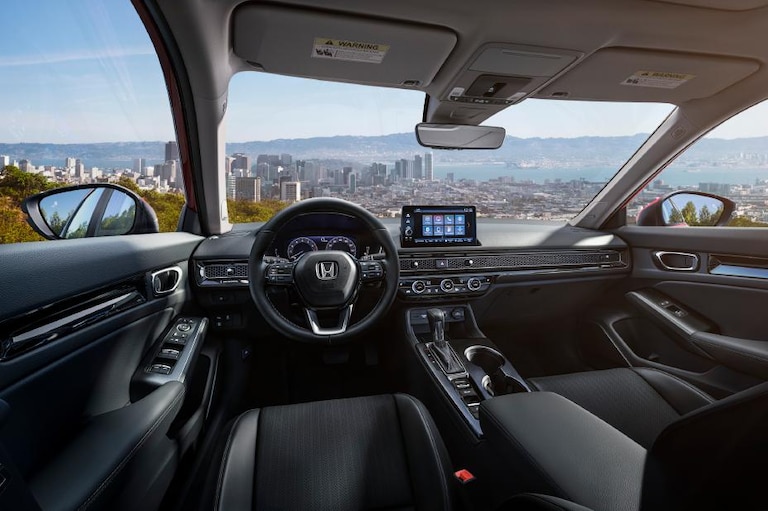 2022 Honda Civic vs 2022 Toyota Corolla
With stronger engine options, the 2022 Honda Civic provides a more thrilling and fun driving experience than the 2022 Corolla can give you.
Standard Apple CarPlay® and Android Auto™ allow both models to ensure you have the music, maps, and apps you want for your time in the driver's seat.
Choosing the 2022 Honda Civic Touring will provide a touchscreen that is larger than any you will find on the 2022 Toyota Corolla.
Dual-zone automatic climate control comes equipped on the 2022 Honda Civic EX or 2022 Honda Civic Touring, which isn't equipped for any trim of the 2022 Toyota Corolla.
 
Each model comes with a Continuously Variable Transmission to give a smooth performance while front-wheel drive maximizes efficiency.
More passenger space in the 2022 Honda Civic keeps everyone who travels with you more comfortable than if you were to choose the 2022 Toyota Corolla.
The 2022 Honda Civic offers more cargo space than the 2022 Toyota Corolla does, making it easier to bring along what you need without needing to put any gear in the cabin.
Both models come with many standard safety features. The 2022 Honda Civic has a few more safety features with its standard Honda Sensing® than the 2022 Toyota Corolla comes with, one of which is Traffic Jam Assist.
Upgrading to the 2022 Honda Civic Touring will add a wireless phone charger to your cabin, something you won't find anywhere in the 2022 Toyota Corolla trims.